Payment software:
Create payments for €7.95 ex. VAT/month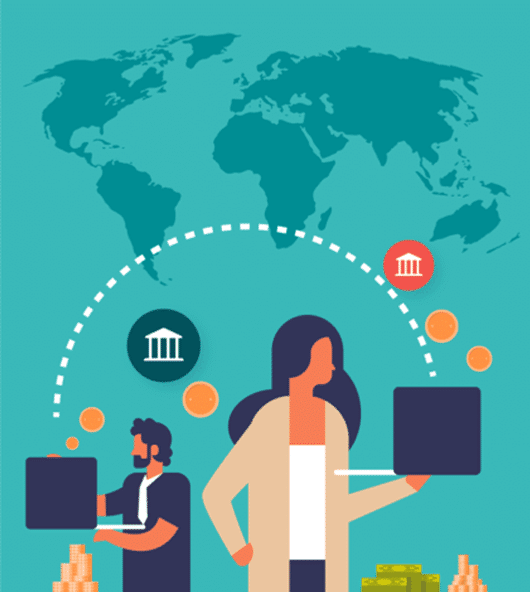 Payments for
the world over
Iziago generates payment files which are compatible with every bank in the world thanks to the international ISO 20022 standard. Iziago allows you to fill in all the information requested by the banks, regardless of the type of payment you need to make (domestic, SEPA, international).
To make daily use simpler, Iziago offers you:
The option of saving and reusing recurring remittances (salary payments, for example)
A rapid data entry list for mass payments (supplier payments, expense claims)
The ability to apply the same comment to all payment orders
Or you can import an order file in Excel or separated text format and Iziago will convert it into a SEPA XML or ISO 20022 XML payment file.
When the payment file is ready, Iziago connects to your bank's website for you to upload the file.
By providing the level of detail required by banks and a compliant file format regardless of the beneficiary's country, you reduce the risk of rejected payments..
Reliable
third party database
With Iziago, you can access your database of third parties (employees, suppliers,etc.) so you no longer need to fill in information or updates concerning your third parties on the websites of any banks you use. Moreover, specific information is saved by country, (such as ABA code for the USA or the CNAPS code for China), allowing you to control the validity of bank data held for your third parties.
To make processing your orders simpler, Iziago allows you to set up your own database of third parties:
Creation by entry or import
Classification into user-definable groups (defaults are: employees, suppliers, customers and other)
Compartmentalization and access controls by user
You are the owner of this information

and you have centralized and secure management of your data. You can export your database of third parties in Excel format at any time.
Accurately

track your payments
When you cannot monitor payments closely, various complications such as the following can arise:
Payments disputed by your suppliers
Payment refusals and associated banking costs
Lack of visibility once payments are sent to the bank
That's why Iziago allows you to log your remittances.
Track your submitted remittance history
Iziago allows you to view the list of remittances submitted to the bank with the time they were generated and the name of the user who created them. You can export the history to Excel at any time.
Try out the software free of charge for 3 months
Access to 3 modules + banking communication option
With no obligation, no credit card